So I'm finally getting progress done on my new Chaos army. I wanted to do a Slaanesh oriented jump pack heavy army. The Raptors are still on the way but here's some stuff I just got going. Basing still needs to be done on these noise marines but otherwise they're pretty much done.
The Penetrators Warband.
" />
Pirates, slavers, renegades. The Astartes Traitorus Desginate Warband under the current command of the fugitive known as Solath Ghar the Fleshking are an ever present threat to Imperial worlds bordering the Eye of Terror. The warband is composed of fallen Space Marines from all over the galaxy. Some are relatively recent deserters, such as those who fled the defeat of the Tyrant during the Badab war. Others still are far older, veterans of the Long War in the truest form, their minds stretched and twisted by the dilation of warp time.
[img]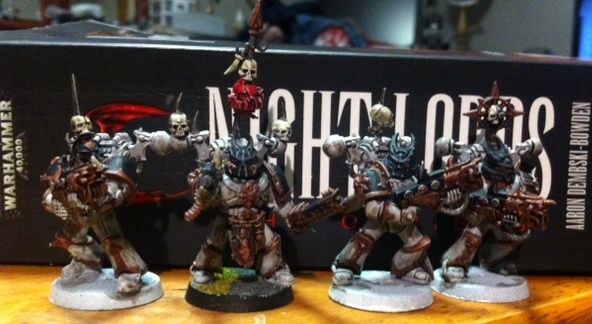 [/img]" />
The warriors of the Penetrators are thieves and pirates. Denied their own autonomy as Imperial Space marines, they relish in the opportunity for personal aggrandizement and excess as masters of their own destinies (or so they believe). They indulge themselves in their every whim, accumulating masses of wealth torn from their victim worlds. The social standing of a Penetrator lies in his wealth of slaves and exotic luxuries stolen from across the galaxy. This hierarchy is of the utmost importance, as the Penetrators value vainglorious admiration and pride above all else. Having lived a life of servitude under the Emperor, they now seek to become masters themselves.
Their armour is comprised of many parts, each taken by force from slain foes, Imperial and traitor alike. The spoils are refitted by artificer servants into a heathen conglomerate of warplate in direct defiance of the orthodoxy of the Mechanicum. The warband lacks any sort of access to a forgeworld and must steal their materials of war.
When combined with their constant hunger for personal wealth, this lack of resources drives the warband to constantly scour the stars in search of new prey. Their battle barge;
Faithsbane
hunts both the heretical realm of the Eye and realspace itself like a shark. For if the Penetrators were to remain idle for too long, they would surely turn on one another in their mad need to indulge their perverse vices.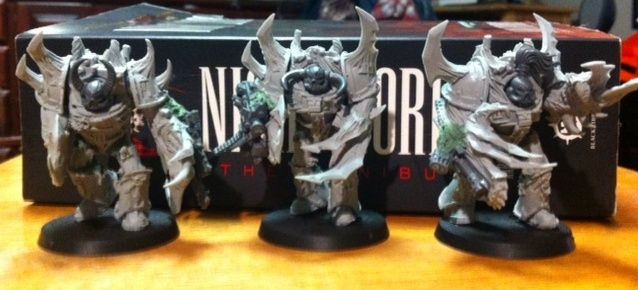 " />
Obliterators WiP.
I'll try to update this with more stuff as it gets done.
Admin




Posts

: 95


Join date

: 2015-02-14



Hooo those Oblits are beastly, can't wait to get a look at those gun arms in person lol

Sick

_________________
"Warriors reborn through fire! Enemies returned to ash!"
Warmaster




Posts

: 148


Join date

: 2015-02-16


Age

: 29


Location

: Toronto ON



Repose on the Oblits looks great.

_________________
I live. I die. I live again.
Private





Posts

: 48


Join date

: 2015-02-15


Age

: 25



Straight up space pirates. Awesome.
Where did those weapons come from up in the first pic?
Recruit





Posts

: 14


Join date

: 2015-02-17



They're third party from a company called Spellcrow. I wanted noise marines but the GW add on kit was too expensive. I think these look pretty cool anyways.
Admin




Posts

: 95


Join date

: 2015-02-14



Love the oblits. Updates plz!
Lieutenant





Posts

: 104


Join date

: 2015-06-20




Similar topics
---
Permissions in this forum:
You
cannot
reply to topics in this forum